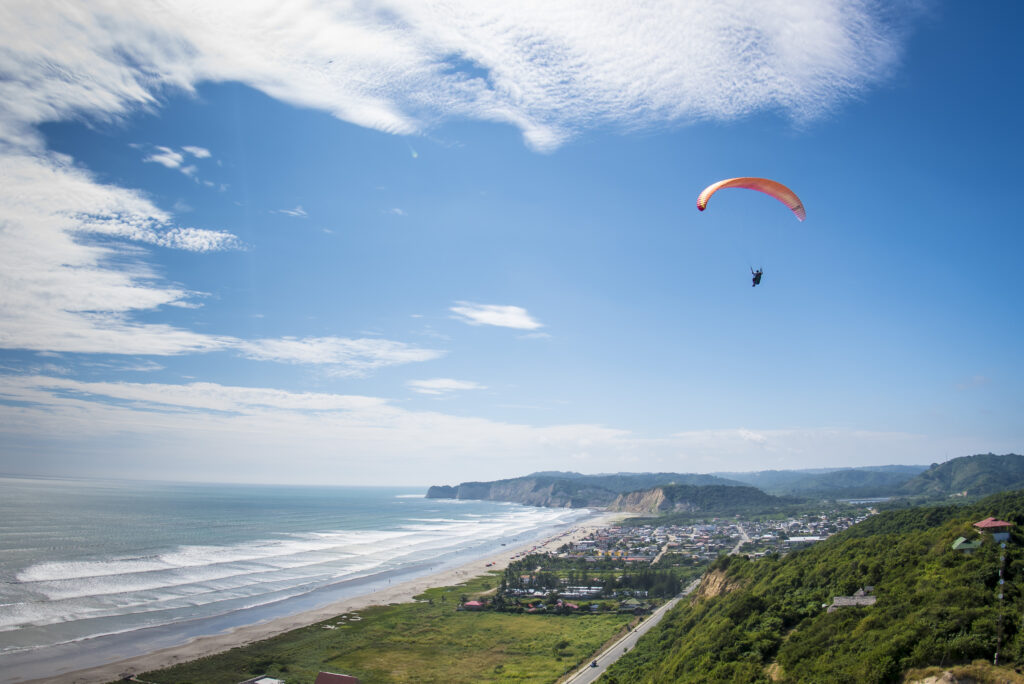 Have you ever wanted to  fly like a bird?
Canoa, Ecuador has a unique combination of weather patterns and topography that make it an ideal place for aerial sports like hang gliding and paragliding. Sure, we're famous for our epic surf breaks, but the best waves generally happen between December and May. During the rest of the year, from June until November, we receive steady onshore winds. This can negatively affect surf conditions, but makes for perfect free flight conditions.
What makes Canoa, Ecuador so perfect for paragliding?
During the windy season we get consistent, strong, onshore winds, usually in the range of 15 to 20 knots. And the coastline surrounding Canoa has large cliffs, some of which are hundreds of meters high. When the onshore wind hits these cliffs it creates a "lift band" of upward moving air that is strong enough to maintain humans in the air, provided you are suspended under either a large wing or kite.
As a paraglider myself, I can say that few places in the world offer such ideal ridge soaring conditions. Locally we have upwards of 30km of flyable coastline. Wind conditions typically allow for flights that last as long as your bladder or attention span. It is possible to launch from Monkey Beach to the north, and fly all the way to San Vicente to the south. There are a few crossings, or gaps in the cliff lines, but for experienced pilots in good conditions it is very doable. And if you don't make a crossing for whatever reason, most of the time you are above or very close to a wide sandy beach where you can safely land.
If you want to explore further afield, there are lots of other sites for paragliding and hang gliding in Ecuador, both on the coast and in the mountains. However, if you ask a member of the local free flight community, they will usually tell you that for coastal ridge soaring, there is no better place than Canoa.
Hang gliding and sky diving
Canoa is just as good for hang gliding as it is for paragliding. There are days when the wind is too strong for paragliders, but perfect for hang gliding. We often host hang gliding competitions, and there is a launch site called "El Nido" specifically designed for hang gliders. There is also a company in nearby San Vicente that offers sky diving for those looking for even more speed and adrenaline.
Something for everyone
If you'd like to do a tandem paraglide or hang glide in Canoa, stop by Hostel Coco Loco. Our receptionist will be happy to sort you out for the experience of a lifetime. Feel the excitement of flying through the air without a motor. Enjoy the spectacular views. Take that epic selfie and make all your friends jealous. New experiences are what make traveling worthwhile. Who knows, maybe you'll get hooked and become a pilot yourself!